30.01.2017
Finalized semester studying in Poland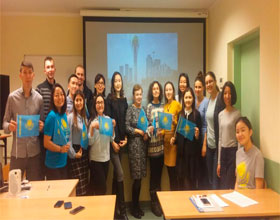 On 27 January , 2017 undergraduates and students of Abai Kazakh National Pedagogical University of the specialty "Russian language and literature" held an event devoted to Kazakhstan at the Pomeranian Academy (Slupsk, Poland), where they undergo training in semester by plan of academic mobility programm.
Guests of the evening were the lecturers of the Academy Irena Karpel, Mrs. Richelskaya and Polish students. Kazakh students introduced with the culture of their country to Polish colleagues. Concert presenter was Fatima Akhmedova. Narkyz Boztekeeva spoke about the history, culture and traditions of their homeland. The young poet Mukhambetzhan Mailybayev read his poems devoted to Kazakhstan. Students 2 and 3 years courses Nurila Karabasova and Akerke Zhalgaeva sang patriotic songs and Zhanerke Toleuova prepared a report about their university and chair.
After the concert, the organizers treated Polish friends with baursaks. Colleagues came to support students of Abai KazNPU from other specialties who are also studying in the Pomeranian Academy.